In the San Joaquin Valley in California, USA, the belching of cattle at fattening Bear 5 while chewing food generated methane emissions from 443 kg to 668 kg per hour.
Such data as of February 2 was presented by GHGSat Inc., which owns high-resolution satellites, according to Bloomberg
Evidence shows how agriculture can contribute to climate change.
GHGSat explained that during the year, if emissions continue, cattle will produce 5,116 tons of gas, enough to feed 15,402 homes.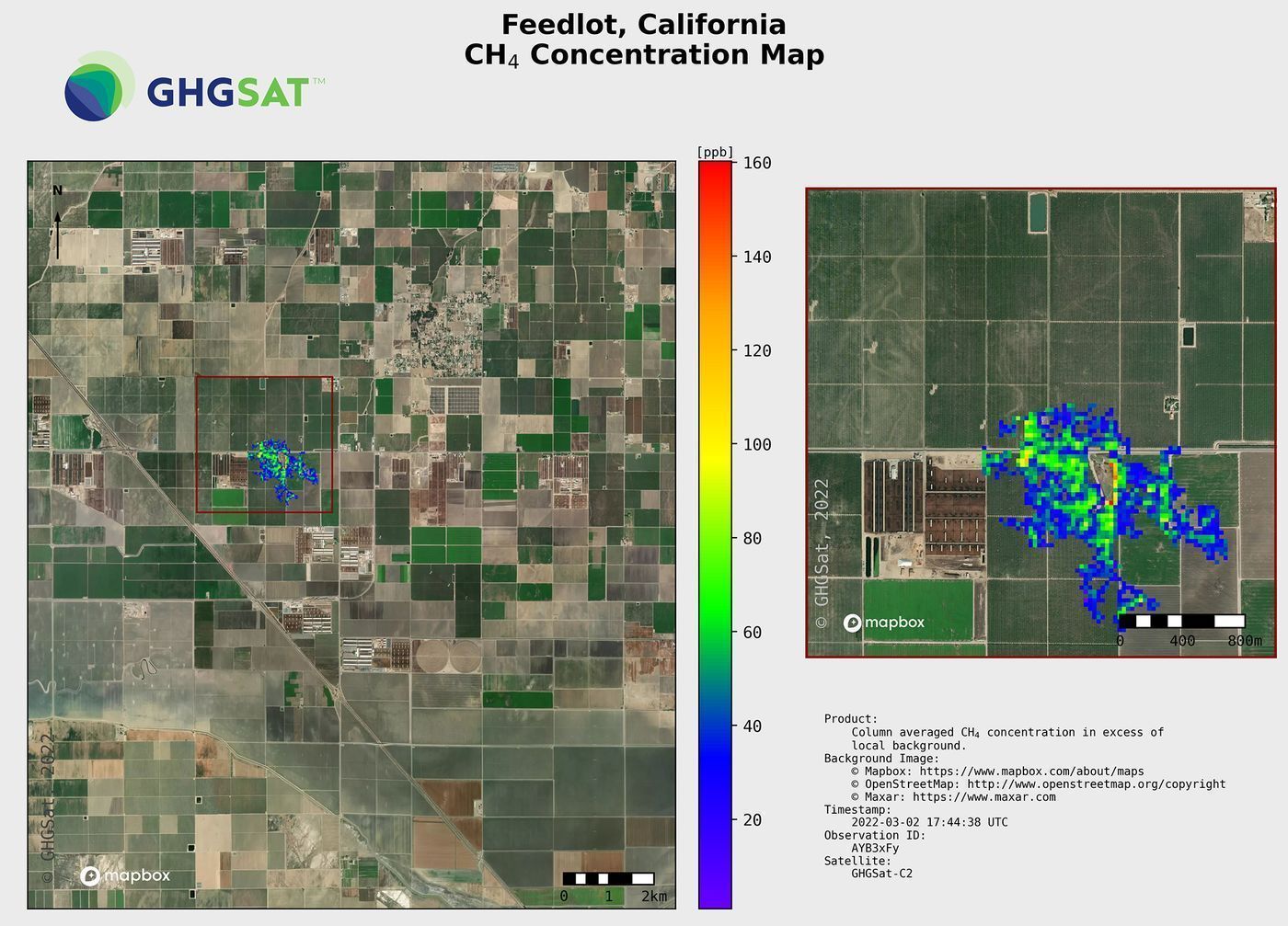 Brody White, GHGSat's director of sales, also said that compared to energy and other sources of pollution, the problem with cattle is that their emissions are more scattered and broken by wind, making it difficult to track from ground-based meters. New findings have been made possible by scientific advances in satellite imagery.
From 2023, GHGSat will increase the number of satellites from 2 to 10 to conduct daily observations.
Methane, as a global warming agent, is known to be more than 84 times more powerful than carbon dioxide in its first 20 years in the atmosphere.
Scientists warn that global methane emissions must be reduced by a third by 2030 to slow global warming. These emissions are mainly related to human activities, including agriculture, where cattle are the largest source in the world.
According to the US Environmental Protection Agency in 2020 for agriculture accounted for about 11% of total greenhouse gas emissions, a quarter of which come from cattle and other livestock.
According to The U.S. Department of Agriculture, as of January 1, had 91.9 million head of cattle in the United States, including calves, of which 16% were fattened for slaughter.
About 95% of methane emissions from cattle are emitted by belching through the nose, and flatulence is only a small part of the methane produced.
The industry is exploring ways to reduce the plume in the fattening area. These efforts include the use of gas masks for livestock and changes in feed content.
Fonterra Cooperative Group from New Zealand, the world's largest exporter of dairy products, say that a promising solution to this problem is the addition of seaweed.
American cattle usually spend the first part of their lives in pastures. The germs in their stomachs that break down grass fibers are the reason they vomit so much methane.
"At the fattening grounds, where they go for the 'final period', the animals consume more easily digestible corn, which produces less methane," said Frank Mitloner , Professor of Animal Husbandry at the University of California, Davis.
Mitloner also explained that bulls sent for fattening usually reach their slaughter weight at the age of 14 to 16 months, while in the pasture - at 28-30 months. This means that fattening sites account for approximately 5% to 10% of total methane emissions, including the production and transportation of maize.
The industry has reviewed several dozen feed additives, and feed batch emissions data may show the impact of dietary changes on methane emissions.
We will remind, emissions from Brazilian meat producer JBS exceeded Italy's emissions.
As reported EcoPolitics before, NOAA studies have shown that the level of methane in the atmosphere reached a historic high.