In Volyn, Kivertka will build a sorting line at the landfill in the village of Zabrude, where organic and solid municipal waste, as well as tires, will be processed.
The respective Memorandum was signed by Polish investor Robert Kornatovsky from Meritt Group Ukraine LLC and city ​​mayor Oleksandr Kovalchuk, Kivertsiv City Council reports on Facebook.
It is noted that "Merritt Group" is engaged in the processing of metal, tires, solid municipal waste, from which alternative fuel is made. In addition, the company manufactures equipment for waste processing.
Kornatovsky said that at the first stage of the project, a biostabilizer will be installed, where green waste will be processed, in particular, dry grass, leaves, and branches. They will be used to produce a soil conditioner. Solid waste will not be burned, but shredded.
He emphasized the importance of getting already sorted garbage to the line. To do this, it is necessary to teach community residents how to sort.
Kornatovsky explained that the plant will not store waste. They will be processed and immediately sent to Ukrainian enterprises with which agreements have been concluded. Also, the technology does not involve composting green waste, so the enterprise will not pollute the air.
It is noted that "Merritt Group" also invests in certified recycling of tires on its own equipment according to the same principle: shredding and sending
Kornatovsky emphasized that the company can also deal with the reclamation of the landfill in the village of Zabrody.
"Our common task is to limit the pollution of nature by recycling waste, and to leave a planet comfortable for future generations," he said.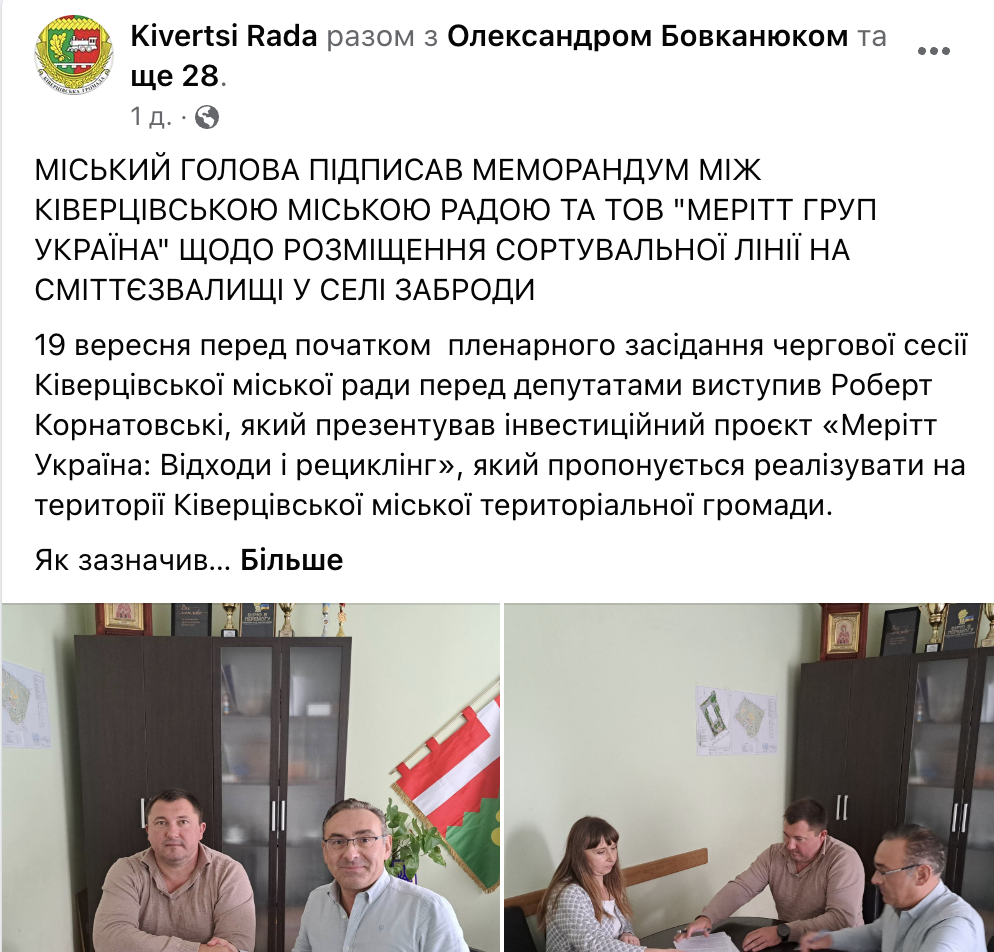 Earlier, EcoPolitic wrote, that in Volyn, in Novovolynsk, an open meeting of city council members and the public took place with a potential investor from the Merritt Group company, Robert Kornatovsky, regarding the construction of a waste processing plant.
As EcoPolitic previously reported, in the Volyn region, residents of the Novovolyn community spoke out against the construction of a waste processing plant due to potential environmental threats.