Europe can reduce metallurgical emissions by 73% by 2030 through the use of scrap and direct iron recovery (DRI) technology from hydrogen.
41% of emissions can be avoided through optimized scrap use, according to reports non-profit climate change think tank Sandbag.
The report aims to highlight the role of circularity in the rapid decarbonization of the steel sector. It discusses how European industrial and climate policy can accelerate this transition.
So 97% of EU direct emissions from the metallurgical industry come from integrated steel production (BF-BOF), which is used to produce high quality products, while electric arc furnaces (EAF) tend to produce long and special steel products. However, in North America, EAFs are also more commonly used for flat products.
74% of the blast furnace capacity will have to be re-equipped (upgraded) this decade.
BF-BOF metallurgical plants typically use 20% scrap (which reduces their carbon footprint), but the technology does not allow for much more. All of these BF-BOF metallurgical plants could be replaced by EAFs that supply the same share (20%) of scrap, achieving 55% emission reductions by 2030, but this would increase annual fossil gas consumption (in 2030) by 18 , 2 billion cubic meters, or 4.2 million tons of hydrogen for the processing of primary iron ore into ore-based metals (OBM), such as DRI.
"Electricity consumption will increase by 45 TWh to power the EAF, which could increase by another 213 TWh to produce the hydrogen needed to process the primary ore," the report said.
However, EAFs can be virtually carbon-free if powered by zero-carbon electricity. They may be able to cope with the intermittent use of renewable energy, but this may not be cost-effective. Technologies need some optimization.
Both OBM and hydrogen production require a small amount of uninterrupted electricity in the grid, which cannot be provided by renewable energy sources.
The material noted that there is a risk that most European EAFs will use imported processed ore if this product is not covered by the Carbon Border Correction Mechanism. By optimizing the use of European steel scrap, the annual demand for fossil gas (or hydrogen) can be reduced by 60% to 7.5 billion cubic meters of gas (or 1.7 million tonnes of hydrogen) for the EU and the UK. This will save 126 TWh per year, compared to using only 20% of scrap.
Scrap quality does not make it possible to replace BF-BOF steel mills with EAF in high-quality steel production, provided that scrap management is improved and scrap impurities are diluted by adding some "primary" iron. Optimizing scrap use will generally require better segregation of scrap categories, which should take place as EAF steel production expands, and better assessment of scrap quality, for which this technology is available and inexpensive. Additional savings in renewable electricity will be achieved through reuse in the construction sector or through "direct recycling", which is the recycling of spent steel facilities without melting them in the EAF.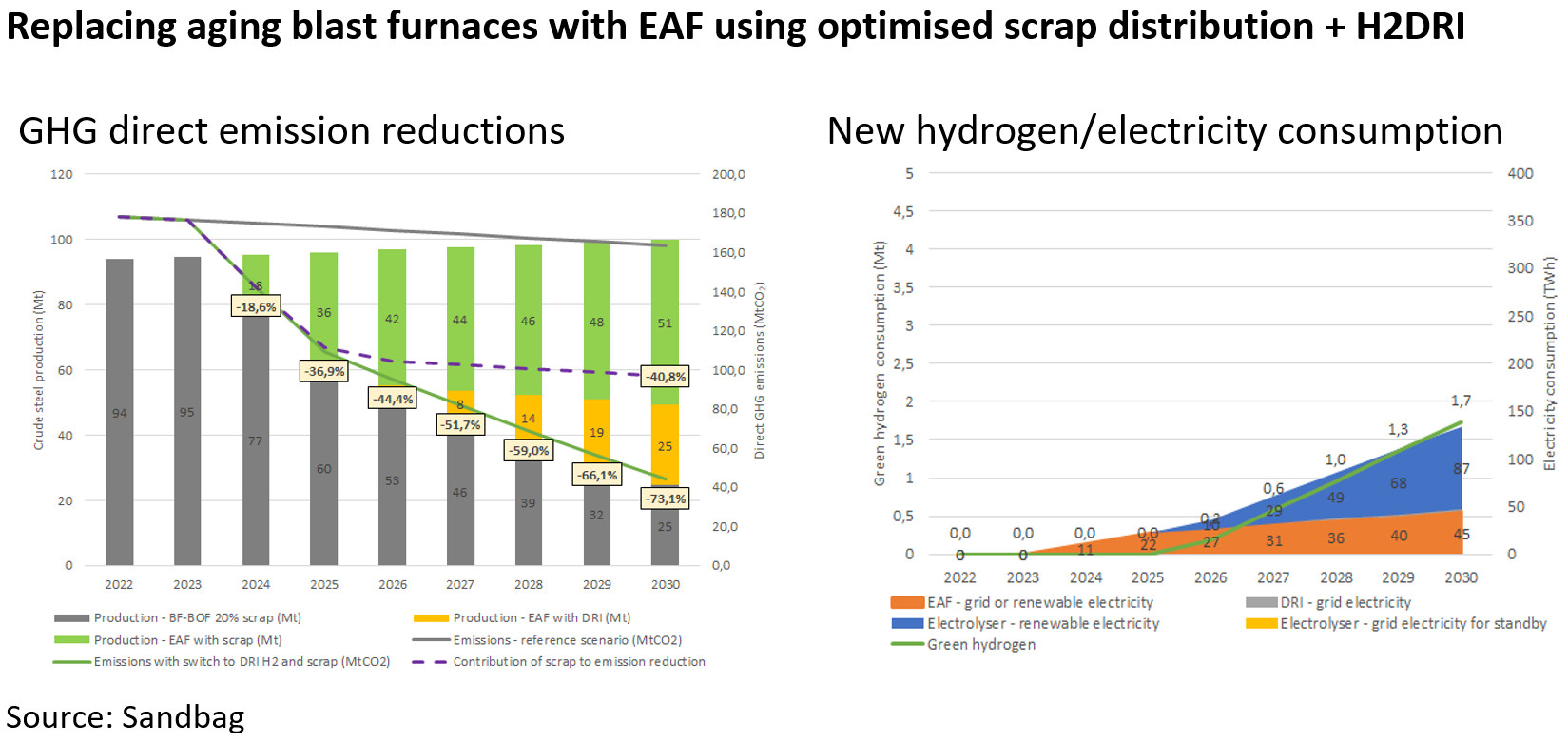 The difference in the production costs of each process, and hence the cost of reducing emissions, is closely dependent on commodity prices. Although they are in the carbon price range, the free allocation of emission permits to protect against carbon leakage largely eliminates the price signal created by this market.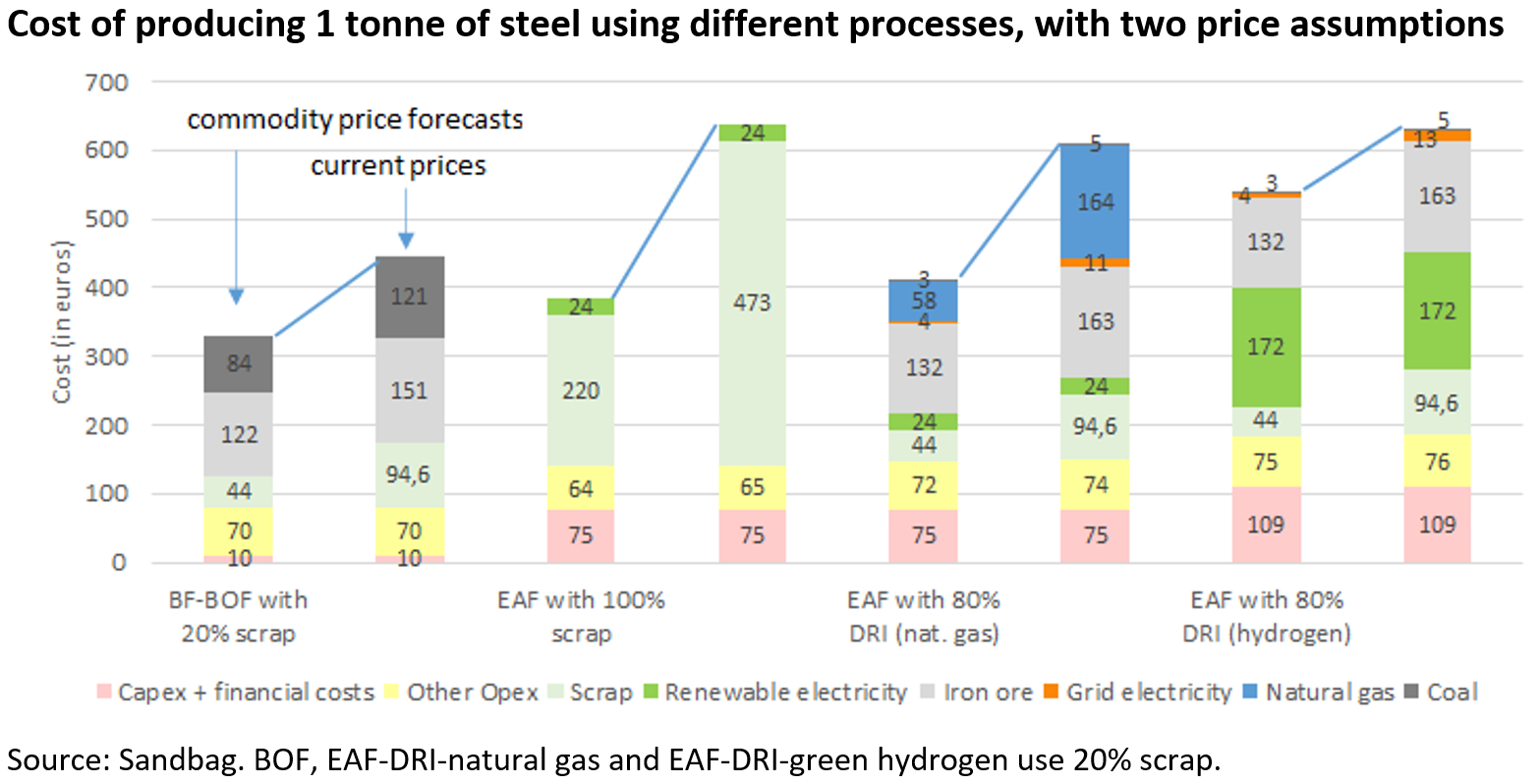 In order to ensure the sustainability of scrap processing, it is necessary to make urgent decisions on product design. Developing products for easier recycling at the end of their service life and easier removal of contaminants will ensure a better and better supply of scrap.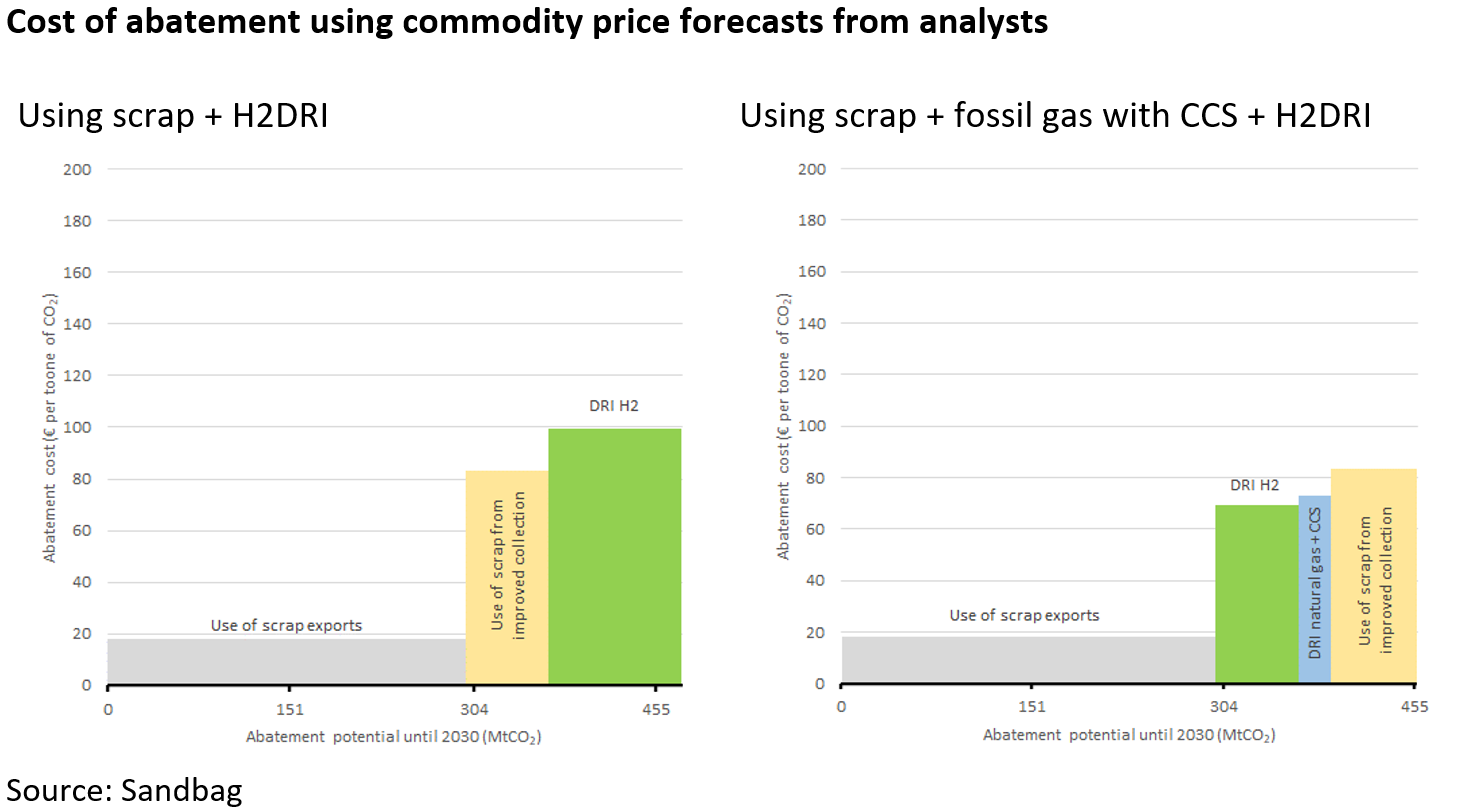 The article noted that the free allocation of emission permits under the EU ETS is an obstacle to a rapid transition to low-carbon steel, and the reform of the ETS benchmarks will not solve the problem of fair competition between high-carbon and low-carbon solutions.
Most transitions can take place during this decade. So replacing free permits with CBAM will provide complete protection for the industry. CBAM should cover ore-based metals as well as finished steel products.
"Adding hydrogen to the EU ETC. (with the appropriate criterion of free distribution) will distort competition between secondary, recycled and hydrogen steel. The problem is not innovative technologies, but access to zero-carbon electricity and best practices in the scrap market. The EU funding expected from the Climate Investment Fund (now the Innovation Fund) may be more appropriate to address these issues across the EU than sponsoring individual conversion projects, "the report said.
For hydrogen steel to have a low carbon content, the resulting hydrogen must have zero carbon content. This should be reflected in policies such as the Renewable Energy Directive (for its sectoral purpose), in particular as part of the Delegated Acts on Renewable Fuels of Non-Biological Origin (RFNBO).
We will remind, experts have shown how to decarbonize the "dirtiest" industrial sectors.
As EcoPolitics reported earlier, British Steel has started large-scale study use of green hydrogen.