The Middle East and North Africa (MENA) region has significant potential for green steel production (DRI), particularly due to significant solar resources for renewable hydrogen production.
The region is located near the main growing steel market, i.e. India, and the European center of demand for green steel, according to IEEFA.
It is noted that during the decarbonization of the global steelmaking sector, the production of pig iron will probably be separated from the production of steel. More iron ore will be processed in places with strong RES to generate cheap green hydrogen. And the received iron will be sent to centers of demand for steel.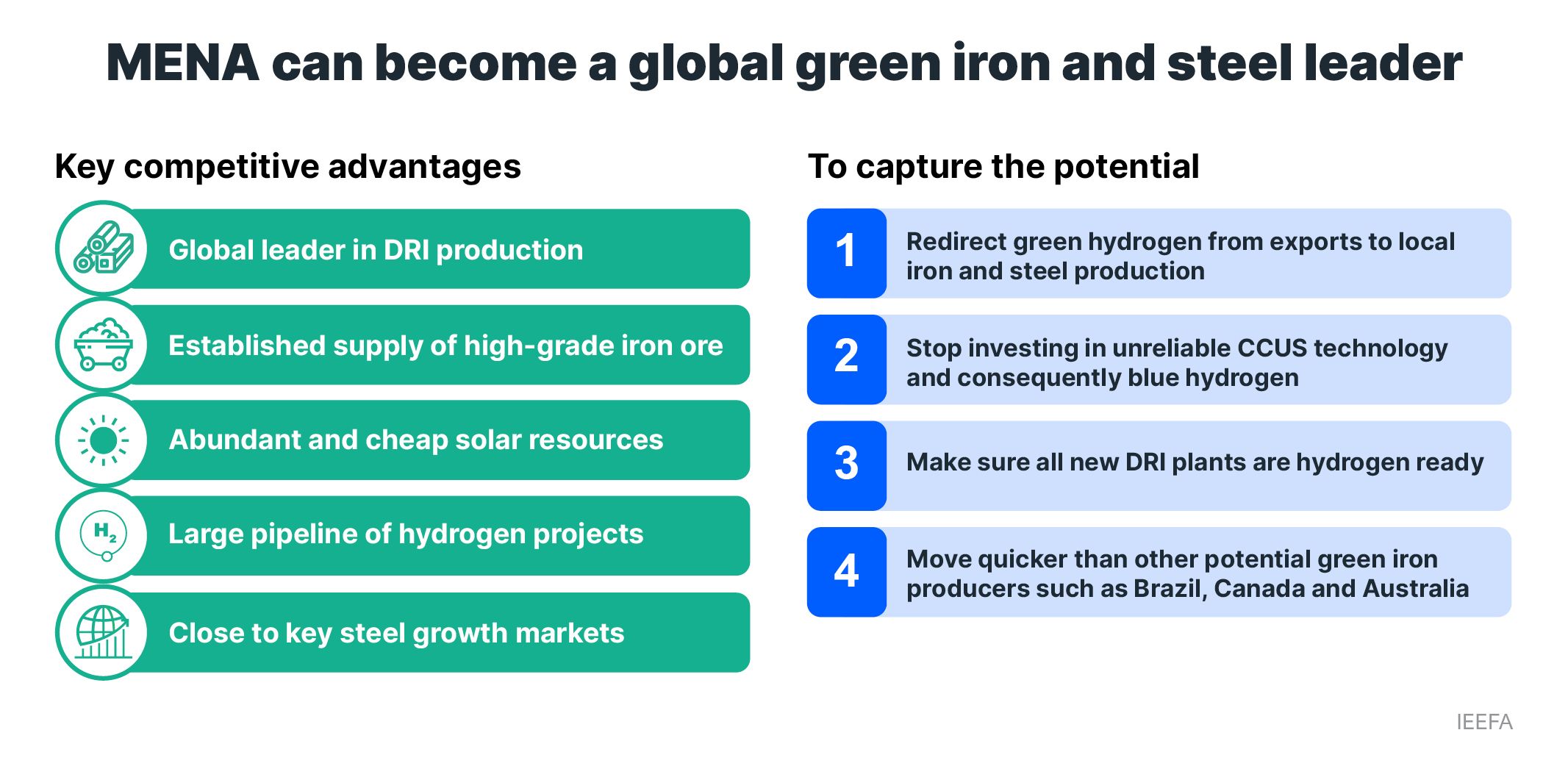 The article emphasized that MENA's metallurgical sector, particularly in Saudi Arabia, Oman and the UAE, has a major advantage as it is already based on DRI, which uses gas rather than coal.
Vale, the world's largest producer of DR grade iron ore, is already planning to launch environmentally friendly pig iron "mega hubs" in the Middle East. They will supply iron ore pellets to adjacent DRI plants to produce Hot Briquetted Iron (HBI) for local consumption and export.
IEEFA explained that gas-fired steel production through DRI creates lower emissions compared to traditional blast furnace production using coking coal. However, true green steel can only be produced with green hydrogen. Therefore, new local capacities must be built "ready for hydrogen".
It is noted that despite MENA's numerous advantages, the development of green metallurgy creates significant competition among countries, in particular with those that mine ore and have powerful carbon-free energy resources. For example, the POSCO company is planning large investments in Western Australia for the production of HBI, the Japanese Nippon Steel – in the production of green steel in Australia or Brazil.
"Steel developments in the MENA region need to be as hydrogen-ready as possible, and the region needs to take advantage of low-cost renewable energy as soon as possible by introducing clean hydrogen for iron and steel production. By moving faster than other potential green pig iron producers, the MENA region could become a world leader in green pig iron exports. The early introduction of green hydrogen can also decarbonize steel produced for domestic use," the material emphasized.
The IEEFA added that a reorientation from the export of clean hydrogen to its domestic use could help the region achieve domestic emission reduction targets. And also to strengthen the position of their metallurgical enterprises in the global metallurgical sector in the near future.
As EcoPolitic reported earlier, in Turkey in Aliaga district, Izmir, the Habas company plans to build an enterprise for production and refueling of hydrogen, which will produce 1000 m3 of H2 per hour. Hydrogen will be used in the state of cold rolling.