In Kyiv, in the Shevchenkivskyi district, on the facade of a house on Zolotoustivska Street, 23, a mural "Family for a Four-Legged" was unveiled, which depicts animal volunteer Anastasia Tykha, who rescued dogs with disabilities from Irpen at the beginning of a full-scale invasion.
The picture repeats the photo of the American photographer Christopher Ochikone, in which Tykha is walking dogs out of the city engulfed in fighting, reports The Village Ukraine.
It is noted that in 2022, Tykha and her husband rescued 30 animals from Irpen.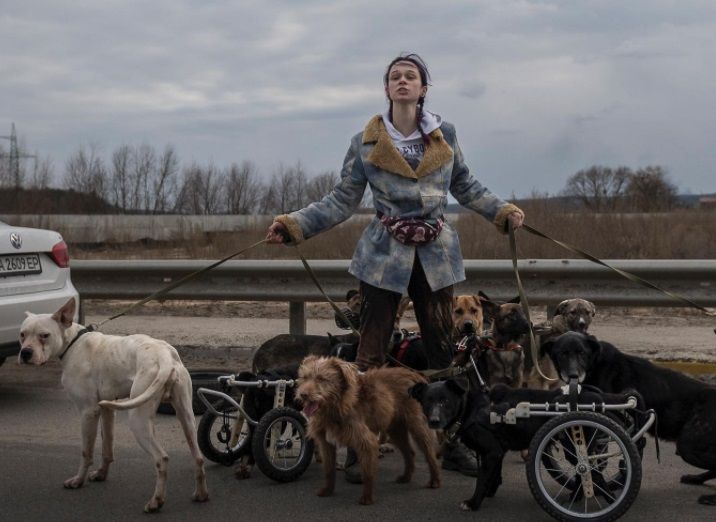 The material said that the mural is designed to popularize adoption, i.e. the adoption of animals, in order to reduce the burden on shelters.
"Currently, there are about 150,000 animals in Ukraine that need help, and the number of four-legged animals in the frontline regions has doubled," the article said. – In June, Kyiv recorded a record number of animals that found a new home. This happened after Russian occupiers blew up the Kakhovskaya HPP."
Earlier, EcoPolitic wrote, that in March 2022, twenty-year-old animal volunteer Anastasia Tykha, together with her husband Artur Lee, during the evacuation from Irpen, engulfed in fire, walked out 15 sick dogs, some of which were in wheelchairs. Photo of the activist went around the world.
As EcoPolitic previously reported, in June, after the explosion of the Kakhovskaya HPP, animal volunteer Anastasia Tykha said that some people decided to help only rescued dogs and cats from Kherson.