In the Rivne region, the Defense Council allowed visiting the forest to collect wild berries and mushrooms with a forest ticket and appropriate limits on the use of resources.
But you can't visit the forest everywhere, the State Environmental Inspectorate of the Polessky District reports on Facebook.
Since March 22, there has been a ban on visiting and entering the forests in the Rivne region.
Now the ban applies to forests in the border areas and six territorial communities, namely: Loknitskaya, Zarechno, Vysotskaya, Milyatskaya, Staroselskaya, Berezovskaya TG. The ban on visiting forests also applies in the neighboring Zhytomyr region.
In the rest of the Rivne region, Ukrainians can collect wild herbal plants, flowers, berries, nuts and mushrooms for free at the following maximum rates:
blueberries - 12 kg;

blueberries - 7 kg;

viburnum - 20 kg;

lingonberries - 10 kg;

cranberries - 20 kg;

white mushrooms - 30 kg;

chanterelles - 30 kg.
The material noted that compliance with safety standards and decisions of the Defense Councils of the regions is mandatory. After all, there is a danger of injury not only in mined areas or in those where there was a combat zone. In the forests and fields, fragments of downed missiles are still found, which also carry a danger.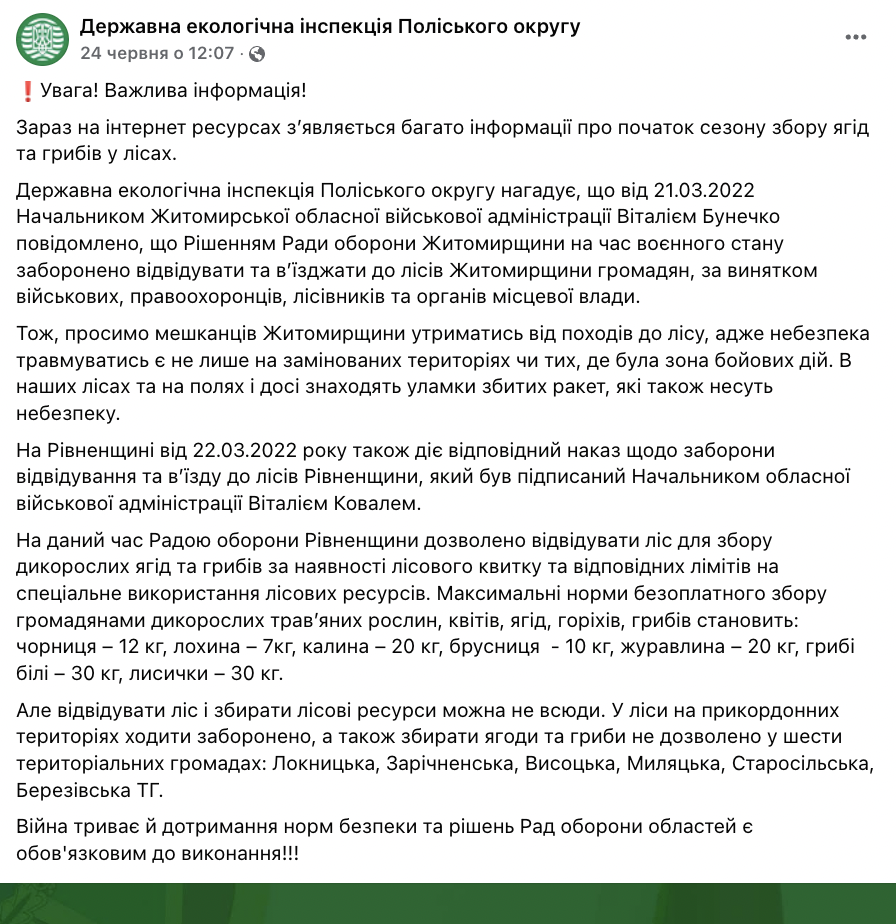 Recall the "most polluted" by munitions area in Kyiv was named.
As EcoPolicy reported earlier, in Kyiv the beaches were checked for mines and they forbade swimming on some.