A forester from Chernihiv region, who has been guarding forests for more than 20 years, has been guarding Ukraine in the Armed Forces since February 24.
He has the call sign "Forester", according to the "Operational Command North" on Facebook.
In recent years, the man worked in the tourist direction in the nature park "Beremitskoe" in Chernihiv region. From military experience, he had only a temporary service at the training center in Desna.
He said that due to his health condition, he was not drafted into the army in 2014, as he was of limited fitness during the war.
"When the invasion started, I couldn't stand it, I didn't see any other way out," the defender said.
He held positions in the designated subdivision 1 of the separate tank Seversky Brigade from Novoselivka and the Bobrovytsia district of Chernihiv, namely, he was at the ski base.
"Our task was to monitor and repel enemy attacks. We were subjected to artillery shelling and air strikes. There was a feeling that the enemy was not storming 40 people, but a whole battalion, "said the military man.
The "Forester" also said that one day, when they were at the observation post, there was a powerful air strike. He destroyed the first and second floors of the building while the man was upstairs.
"Everything, including my bedroom, burned down. Everyone took up violence and started looking for me. And I survived. They say nothing can happen to me because so many women pray for me! God must hear them, "the military shared.
He explained that his mother, wife and sister were waiting for him.
According to the defender, Chernihiv persevered due to stubbornness, because the enemy's forces were much larger, and the Ukrainian defenders really lacked equipment and weapons.
The most terrible "Forester" called not air strikes, not aimed shots almost close, but when you take out a dead brother.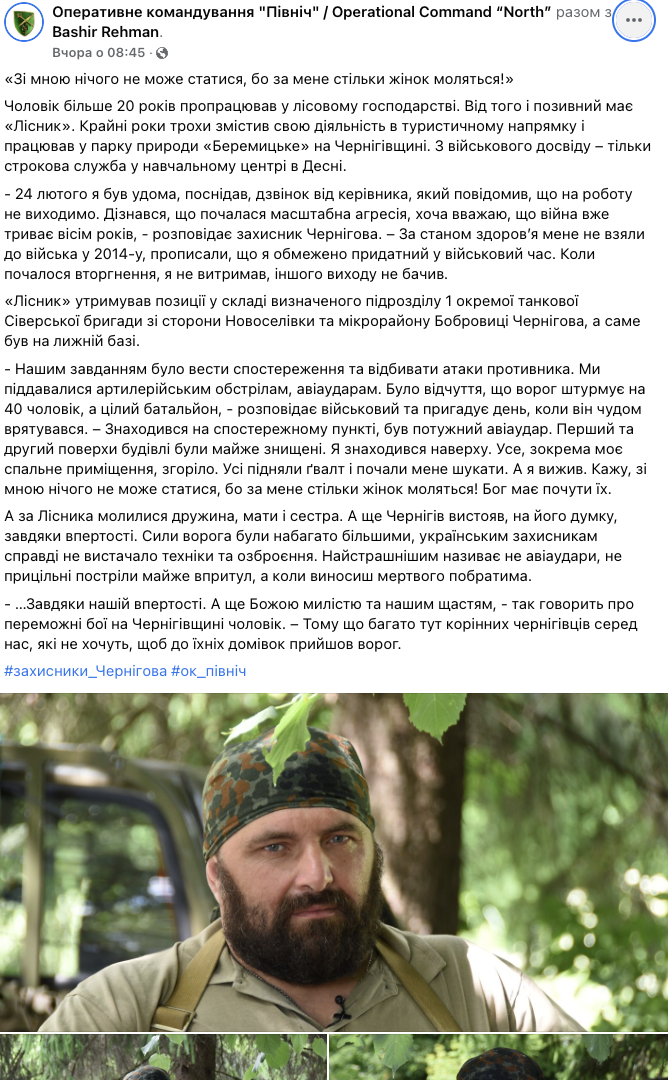 We will remind, how a war of aggression Russia is killing Ukrainian soil, leaving scorched and contaminated ground.