Borodyanka, in the Kyiv region, is planned to be rebuilt as one of the first new ecological towns, all systems of which will work on modern energy-efficient technologies.
Intentions regarding the restoration of Kyiv Oblast are enshrined in the Memorandum of Cooperation signed by the Kyiv regional military administration and the Regional Council of Ile-de-France, France, the State Energy Efficiency Agency reports on Facebook.
It was noted in the article that the State Energy Efficiency Agency welcomes this sensible proposal of Valerie Pecress, the president of the largest French region, Ile-de-France.
"The agency is convinced that the restoration of Ukraine should take place according to the European principle of "Energy efficiency first", - emphasized in the message.
The creation of energy-efficient municipalities will contribute to the solution of issues related to reliable energy supply of the community, optimization of energy costs, modernization of buildings and housing and communal services facilities, and will also help to improve the living conditions of citizens and stimulate social and economic development as a whole.
This concept and a plan of specific necessary actions and tasks were submitted to the Recovery Plan of Ukraine.
The cities that were destroyed by the russian military aggression should become completely new and comfortable for life.
According to Pecress, the Ile-de-France region has significant experience in the development of infrastructure and urban projects in Tunisia, Warsaw, and Hanoi. In Beirut, French specialists completely developed the urban lighting system and created green areas. To support Ukraine, Ile-de-France plans to allocate € 1.1 million.
Pekress noted that she sees the new Borodyanka ecological, with all systems working on modern energy-saving technologies
"Ile-de-France is a rich region with many investment companies and development firms. I will contact them immediately when I arrive in France. In a short period of time, we will offer the very concept and project of the new city. French experts will be able to provide Ukraine with its own assessment of the revitalization of destroyed areas, as well as to take part in the development of master plans, involving the best experience in urbanism," she explained.
The Paris region of France will also help in the reconstruction of Chernihiv Oblast.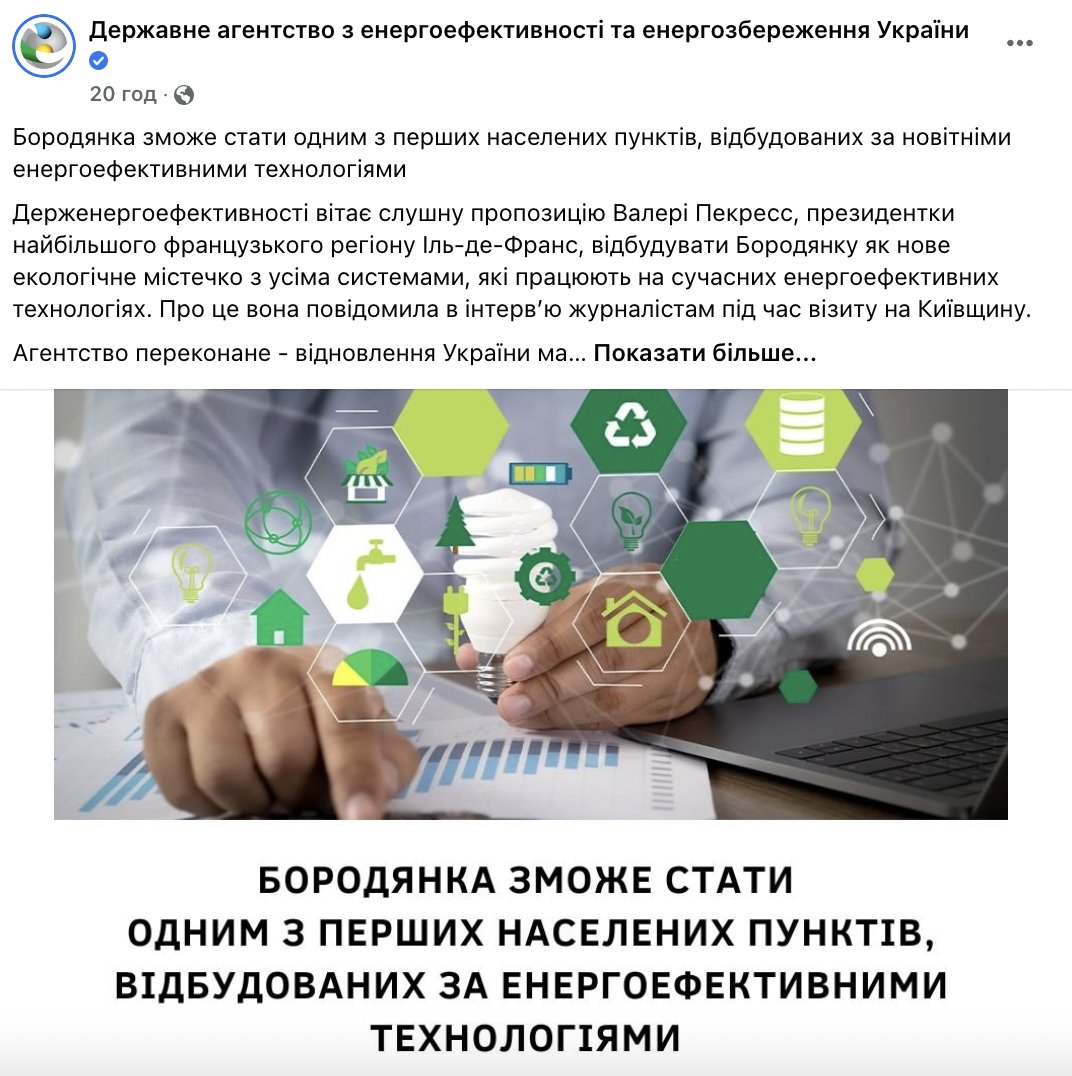 We will remind the authorities have studied business proposals for green recovery of Ukraine.
As Ecopolitic previously reported, Italy will help Ukraine to collect reparations from Russia for environmental damage.