The Lviv District Administrative Court recognized as illegal and annulled the conclusion of the state sanitary-epidemiological examination regarding the "Hryada" pig farm on the significant increase in livestock.
Residents of the village of Hryada suffered for years from the unpleasant smell from the farm, air, water and soil pollution from animal manure, local eco-activist Galyna Solonetska reports on Facebook.
She said that the conclusion was given by the Institute of Public Health. Marzeev regarding the increase of the livestock population to 48,000 per year and the reduction of the sanitary zone to 250 meters.
"In the permit for emissions of polluting substances into the atmospheric air, it is indicated that if the sanitary protection zone is 500 meters, then no more than 12,000 pigs can be raised per year," she emphasized.
Solonetska systematically published the results of monitoring the Eco-City station on her Facebook page. The data showed very poor, poor or unfavorable air quality due to high concentrations of formaldehyde, and exceedances in the "electronic nose" category.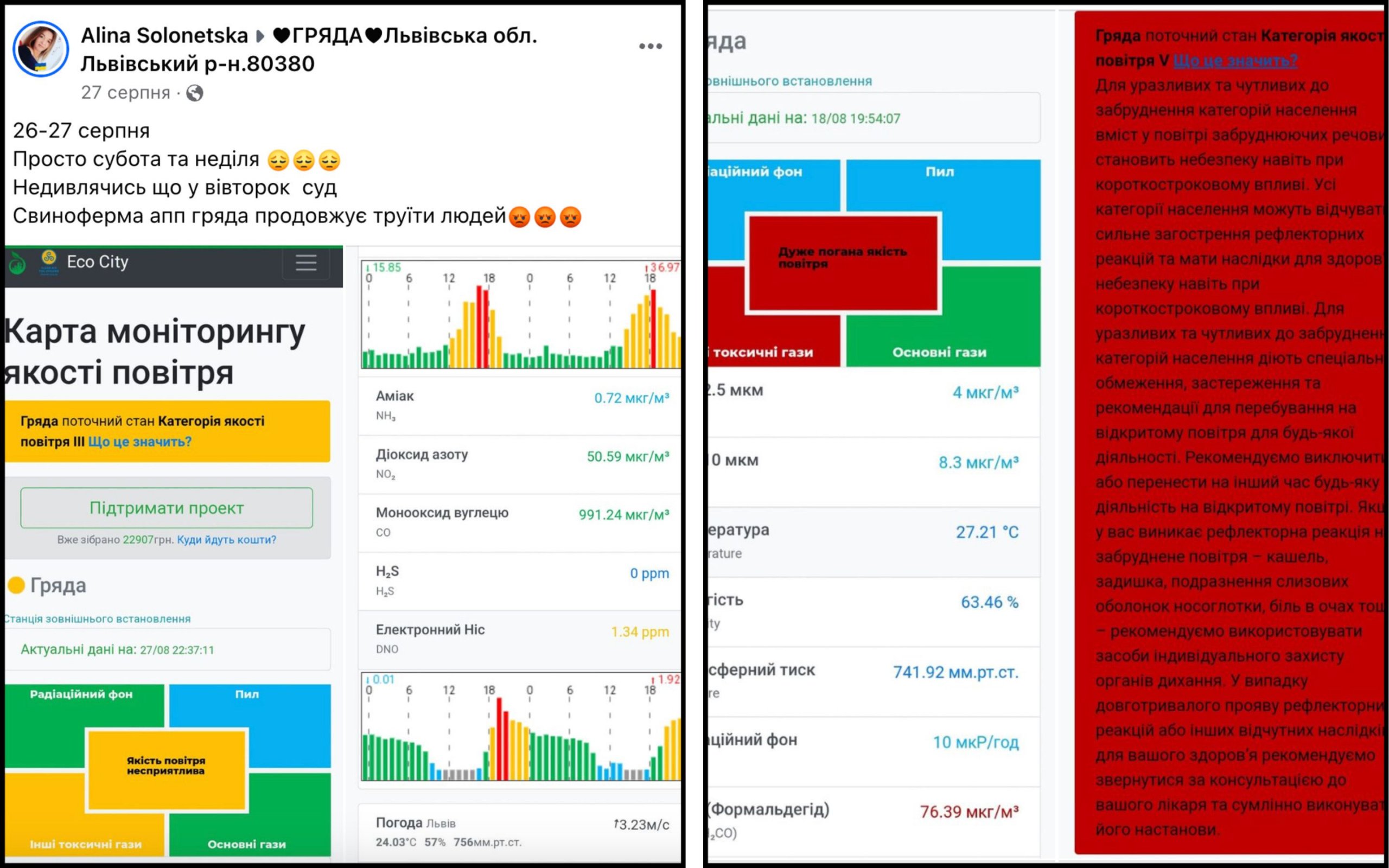 Earlier, EcoPolitic wrote, that in Poltava region there was an emergency situation of man-made nature, namely pollution of the Psel River with pig feces. There was a mass plague of fish in the river in the polluted area of ​​about 35 km, and the trees on the banks began to dry up.
As EcoPolitic previously reported, the State Geology and Subsoil Service of Ukraine suspended for 5 years the special permit for the extraction of gas and condensate of PJSC "Ukrgazvydobutok" on the territory of the Merefyansk community near Kharkiv. Due to mining in the villages of Verkhnya and Nizhnya Ozeryana in the lake and wells, water is contaminated with oil products (11.8 times higher content) and iron (37.7 times).